24 Hours Lead Time FR-4 Material Quick Turn PCB Prototype Manufacturing
| | |
| --- | --- |
| Zahlungsart: | L/C,T/T,D/P,Paypal,Money Gram,Western Union |
| Terms of Trade: | FOB,CFR,CIF |
| Minimum der Bestellmenge: | 1 Piece/Pieces |

| | |
| --- | --- |
| Verpakung: | Vacuum Anti-Static Carton Packaging |
| Produktivität: | 40000 Square Meters / Month |
| Marke: | JHY PCB |
| Transport: | Ocean,Air |
| Ort Von Zukunft: | China |
| Versorgungsmaterial-Fähigkeit: | 40000 Square Meters / Month |
| Zertifikate : | ISO9001 |
| Hafen: | Shenzhen |
Produktbeschreibung
24 Hours Lead Time FR-4 Material Quick Turn PCB Prototype Manufacturing
Professional Quick Turn PCB Circuit Board Prototype Service in Shenzhen China
As a Rapid Prototyping PCB manufacturing and Assembly company in China, make a PCB prototyping quick and easy. We provide best one-sided, two-sided and multi-layer PCB , Quick Turn Rigid Flex PCB, prototyping board manufacturing Services(2 Layer PCB prototype, 4 Layer prototype PCB, 6 Layer prototype PCB, 8 Layer PCB prototype, etc.) and assembly services for customers all over the world.

The production technology is advanced, and the surface treatment technology is complete and mature. Advanced PCB prototyping equipment can effectively guarantee product quality and delivery time. The monthly production capacity of the factory reaches 40000 square meters per month.

At present, the customer groups are all over the world, such as Canada and the United States in North America; Brazil and Argentina in South America; Japan, South Korea, Singapore and India in Asia; France, Germany, Poland, Russia, Spain, Italy, Britain and Australia in Oceania in Europe.
Jinghongyi PCB (HK) Co., Limited
Jinghongyi PCB (HK) Co., Limited is a professional manufacturer of high-quality PCB. JHY PCB specializes in Quick Turn PCB prototypes, small-medium volume PCB. Established in 2011, located in Baoan District, Shenzhen, China, with more than 500 experienced employees, we're able to achieve a monthly output of 40000 square meters.
PCB Manufacturing Services
As one of the leading Printed Circuit Board manufacturers based in China, JHYPCB has been offering international companies of all sizes with high-quality PCB prototype to production services at a fair price for 8 years. To make professional and advanced circuit boards, we're committed to adhering to the strictest standards during the PCB manufacturing process, we're fully compliant with the ISO 9001:2008 quality management system.
- Save money&time! Achieve peace of mind!
- A professional and trustworthy PCB Prototype manufacturer.
- Fastest PCB Prototype.
- One-stop solution for various PCB& SMT Stencil.
- Low cost for simple PCB.
- Affordable price for high-tech PCB.
- Minimum orders 1pcs.
- 24-hour online customer service.
- Professional PCB engineer for one-to-one service.
- Shipment on time.
- Guarantee good service and quality from PCB quotation to delivery.
PCB Assembly Services
To deliver true value and convenience to our PCB fabrication clients, we expand our business to components sourcing and turnkey PCB assembly services ranging from the prototype, low-to-middle volume to high volume up to 1 million pcs. We can mount components on circuit boards using surface mount technology (SMT),through-hole technology (THT), and manual insertion:
- High-quality assembly services with short lead times
- No minimum order
- No additional charge for stencils
- Free DFM Check
- 100% AOI test and X-Ray test for BGAs package
- Function tests & IC programming based on custom requirements
All boards are produced according to IPC-6012 standards and inspected according to IPC-A-600 in the latest version. Our products are widely applied in communications, industrial control, power electronics, medical equipment, security electronics, consumer electronics, LED, etc. More than 90 percent of them were exported to Europe, North America, South America.
One-stop Service Include
| | | |
| --- | --- | --- |
| PCB Prototype | Quick Turn PCB | Single-Sided PCB |
| Double-Sided PCB | Multilayer PCB | Rigid PCB |
| Flexible PCB | Rigid-Flex PCB | LED PCB |
| Aluminum PCB | Metal Core PCB | Thick Copper PCB |
| HDI PCB | BGA PCB | High TG PCB |
| PCB Stencil | Impedance Control PCB | PCB Assembly |
| High-Frequency PCB | Bluetooth Circuit Board | Automotive PCB |
| USB Circuit Board | Halogen-Free PCB | Antenna PCB |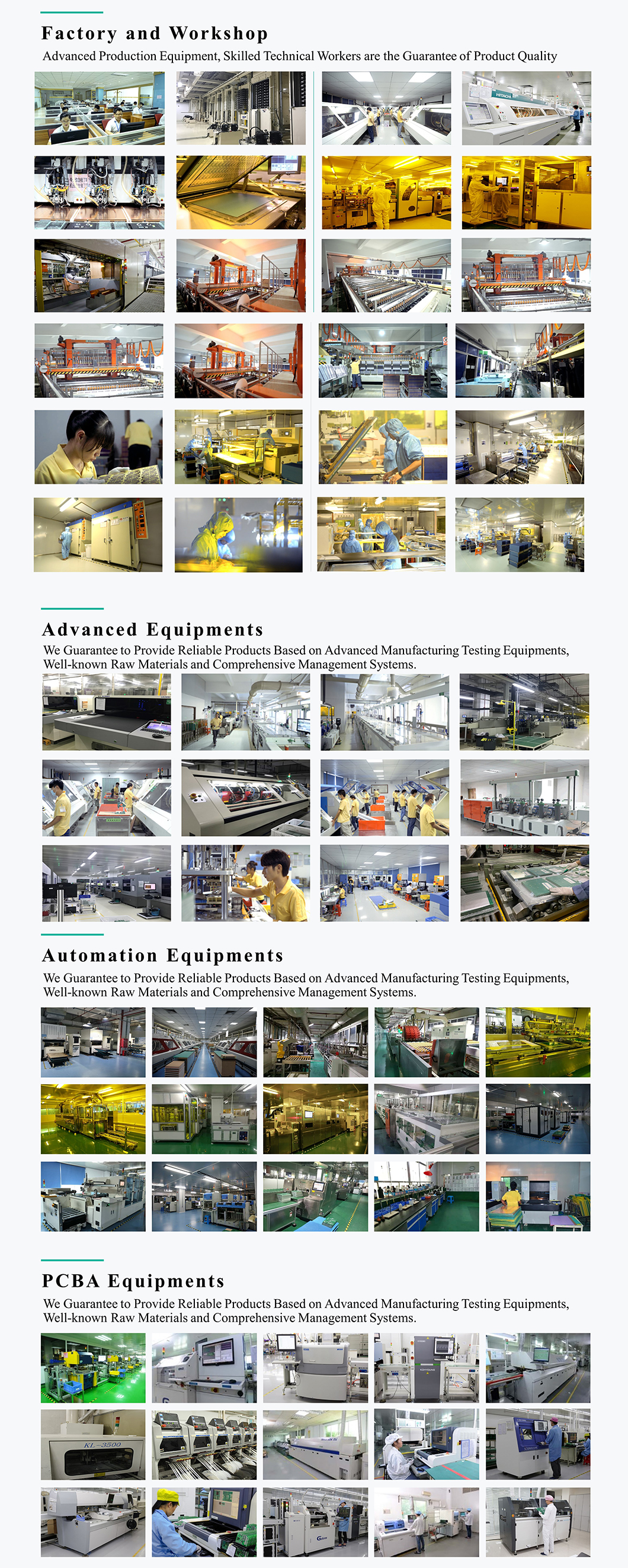 FAQ
Q1: What service do you have?
A: We are the factory, we have our PCB manufacturing & Assembly factory.
We can offer a one-stop service from PCB manufacturing to PCB assembling, testing, housing, and other value-added services.
Q2. What is needed for PCB or PCBA quotation?
A: PCB: Quantity, Gerber file and Technic requirements(material, surface finish treatment, copper thickness, board thickness,...)
PCBA: PCB information, BOM,Testing documents...)
Q3. What file formats do you accept for PCB and PCBA production?
A: Gerber file: CAM350 RS274X
PCB file: Protel 99SE, P-CAD 2001 PCB
BOM: Excel (PDF,word,txt)
Q4: What any other information should be offered except for the file?
A5: Following specifications are needed for the quotation:
a) Base material
b) Board thickness:
c) Copper thickness
d) Surface treatment:
e) color of solder mask and silkscreen
f) Quantity
Q5: What is your minimum order quantity?
A: Our MOQ is 1 PCS.
Q6. Shipping cost?
A: The shipping cost is determined by the destination, weight, packing size of the goods. Please let us know if you need us to quote you the shipping cost.
Q7: Are my PCB files safe when I submit them to you for manufacturing?
A: We respect customer's copyright and will never manufacture PCB for someone else with your files unless we receive written. Permission from you, nor we'll share these files with any other 3rd parties.
Q8: No PCB file/Gbr file, only have the PCB sample, can you produce it for me?
A: Yes, we could help you to clone the PCB. Just send the sample PCB to us, we could clone the PCB design and work out it.
Q9: What payment do you accept?
A:-Wire Transfer(T/T)
-Western Union
-Letter of Credit(L/C)
-Paypal
-Ali Pay
-Credit Card
We recommend bank transfer.
Q10: How to get the PCBs?
A: For small packages, we will ship the boards to you by DHL, UPS, FedEx, EMS. Door to door service! You will get your PCBs at your home.
For bulky goods more than 300kg, we may ship your PC boards by ship or by air to save freight costs. Of course, if you have your forwarder, we may contact them for dealing with your shipment.
Q11. How about the delivery?
Usually, for sample order, our delivery is about five days. For small-batch, our delivery is about seven days.
For the mass production batch, our delivery is about ten days.
But that depends on the real condition when we get your order.
If your order is urgent, please contact us directly, we will make a priority to deal with it and do our best to give you a satisfied delivery time.
Q12: How about your factory production capacity?
A: we can provide 40000 square meter/month.
Q13: Which countries have you worked with?
A: US, Canada, Italy, Germany, Czech Republic, Australia, Japan, Spain, Portugal, France, Britain, Poland, Ukraine, Russia, Brazil, Argentina, and so on.
Q14: How do you ensure the final quality of the product
For PCB, we will use the Flying Probe Test, E-test, etc. for it.
For PCBA, we need you to offer us a method or test fixture for the function test. Before that, our inspectors will use a microscope and X-ray to check the IC foot welding or bad solder, etc.
Q15: Will you check my files before production?
A: Yes, our engineer will check your Gerber file and BOM list to avoid any mistake.
Q16: My budget is limited; can you provide solutions to save cost?
A: Yes, we can. For example, for PCBA: Replace the DIP components with SMD components, so it can narrow the PCB board size to save cost. Re-layout the PCB to reduce the size, it can save cost. Also, we can recommend alternative components.
Q17: Do you accept process materials supplied by clients?
A: Yes, we can provide the component source, and we also accept component from the client.
Q18: Can we visit your company?
No problem. You are welcome to visit us in Shenzhen.
Q19: I am delighted after I read your information, how can I start to purchase my order?
A: Fill in the form below and click the "send" button to send your order to us, or contact our sales on sales representative online!
JingHongYi PCB (HK) Co., Limited
Jinghongyi PCB (HK) Co., Limited ist ein professioneller Hersteller von hochwertigen Leiterplatten. JHY PCB ist spezialisiert auf Leiterplatten-Prototypen mit schnellen Drehungen und Leiterplatten mit kleinen und mittleren Stückzahlen. Gegründet im Jahr 2011, mit Sitz in Baoan District, Shenzhen, China, mit mehr als 500 erfahrenen Mitarbeitern, sind wir in der Lage, eine monatliche Produktion von 40000 Quadratmetern zu erreichen.
PCB Manufacturing Services
Als einer der führenden Leiterplattenhersteller mit Sitz in China bietet JHYPCB seit 8 Jahren internationalen Unternehmen aller Größen mit hochwertigen PCB-Prototypen Produktionsdienstleistungen zu fairen Preisen an. Um professionelle und fortschrittliche Leiterplatten herzustellen, verpflichten wir uns, die strengsten Standards während des Leiterplattenherstellungsprozesses einzuhalten. Wir halten uns voll und ganz an das Qualitätsmanagementsystem ISO 9001: 2008.
- Sparen Sie Geld und Zeit! Sorgenfreiheit schaffen!
- Ein professioneller und vertrauenswürdiger Hersteller von PCB-Prototypen.
- Schnellster PCB-Prototyp.
- One-Stop-Lösung für verschiedene Leiterplatten- und SMT-Schablonen.
- Niedrige Kosten für einfache Leiterplatten.
- Erschwinglicher Preis für High-Tech-Leiterplatten.
- Mindestbestellmenge 1St.
- 24-Stunden-Online-Kundendienst.
- Professioneller Leiterplatteningenieur für den Eins-zu-Eins-Service.
- Versand pünktlich.
- Gewährleisten Sie guten Service und Qualität vom Angebot der Leiterplatte bis zur Auslieferung.
Leiterplattenbestückung
Um unseren Kunden in der Leiterplattenherstellung einen echten Mehrwert und Komfort zu bieten, erweitern wir unser Geschäft auf Komponentenbeschaffung und schlüsselfertige Leiterplattenbestückungsservices, die von Prototypen über kleine bis mittlere Stückzahlen bis hin zu hohen Stückzahlen bis zu 1 Million Stück reichen. Wir können Komponenten mit SMT-Technologie (Surface Mount Technology), THT-Technologie (Through Hole Technology) und manuellem Einsetzen auf Leiterplatten montieren:
- Qualitativ hochwertige Montageservices mit kurzen Vorlaufzeiten
- Keine Mindestbestellmenge
- Keine zusätzlichen Kosten für Schablonen
- Kostenloser DFM-Check
- 100% AOI-Test und Röntgentest für BGAs-Paket
- Funktionstests und IC-Programmierung basierend auf kundenspezifischen Anforderungen
Unser Unternehmen ist nach UL, TS16949, ISO-9001 und RoHS zertifiziert.
Alle Boards werden gemäß den IPC-6012-Standards hergestellt und gemäß IPC-A-600 in der neuesten Version geprüft. Unsere Produkte finden breite Anwendung in den Bereichen Kommunikation, Industriesteuerung, Leistungselektronik, medizinische Geräte, Sicherheitselektronik, Unterhaltungselektronik, LED usw. Mehr als 90 Prozent davon wurden nach Europa, Nordamerika und Südamerika exportiert.

One-Stop-Service umfassen
Name der Firma: JingHongYi PCB (HK) Co., Limited
Vertreter: Chen Zhi
Produkt / Dienstleistung: Leiterplattenhersteller , PCB-Prototyp , Flexible Leiterplatte , Mehrschichtige Leiterplatte , Aluminium PCB , Starre Flex-Leiterplatte
Kapital: US$1.5 Million
Jahr Errichtet: 2011
Absatzmenge des Jahres (in Mio. US $): US$50 Million - US$100 Million
Exportanteil: 91% - 100%
Jährliche Kaufvolumen (Millionen US $): US$10 Million - US$50 Million
Zahl der Fertigungslinien: 8
Zahl der Mannschaft der R&D: 5 -10 People
Zahl der Mannschaft der QC: 41 -50 People
OEM Dienstleistungen verbieten: yes
Größe der Fabrik (Sq.meters):: 1,000-3,000 square meters
Ort der Fabrik: Building 15, Wan Xia Industrial Park, Tongfuyu Industrial Zone, Shajing,Baoan District, Shenzhen, China.
Ansprechpartner: Ms. Megan
Telefonnummer: 86-1351-0758219