Laser Marking Machine for Industrial Bearings
| | |
| --- | --- |
| Zahlungsart: | L/C,T/T,D/P,Paypal,Money Gram,Western Union |
| Terms of Trade: | FOB,CIF |
| Minimum der Bestellmenge: | 1 Set/Sets |
| Lieferzeit: | 25 Tage |

| | |
| --- | --- |
| Verpakung: | Plastic film packaging and Wooden case for Fiber Laser Marking Machine for Metal. |
| Produktivität: | 100 |
| Marke: | UTECH |
| Transport: | Ocean,Land,Air |
| Ort Von Zukunft: | Jinan, Shandong, China |
| Versorgungsmaterial-Fähigkeit: | 100 |
| Zertifikate : | CE, ISO9001 |
| Hafen: | Shanghai,Qingdao,Guangzhou |
Produktbeschreibung
Aluminum Fiber Laser Marking Machine for Buckles Cookware
Product Description
1. Using laser as processing means, there is no processing force between the workpiece and it has the advantages of no contact, no cutting force and small thermal impact, which ensures the original accuracy of the workpiece. At the same time, it has a wide adaptability to materials, can make very fine marks on the surface of various materials and has a very good durability.
2. The space and time control of laser is very good. It has a large degree of freedom for the material, shape, size and processing environment of the processing object. It is especially suitable for automatic processing and special surface processing. And the processing method is flexible, which can not only meet the needs of laboratory type single design, but also meet the requirements of industrial mass production.
3. The laser marking is fine and the line can reach the order of millimeter to micrometer. It is very difficult to copy and change the marks made by laser marking technology, which is very important for product anti-counterfeiting.
4. The laser processing system combined with the computer numerical control technology can form the high-efficiency automatic processing equipment, which can print all kinds of characters, symbols and patterns. It is easy to use software to design the marking patterns, change the marking contents, and adapt to the requirements of modern production with high efficiency and fast rhythm.
5. Laser processing has no pollution source, which is a clean and pollution-free high environmental protection processing technology.
Main Features:
1. Split-body Design: The separate design of worktable and control cabinet enhances the overall beauty and facilitates the operation of workpieces. Of course, if you like other styles such as portable, standard desktop, portable with handle, we can customize them according to your needs.
2. High Precision marking effect: suitable for precisely marking on metal parts, electronic components, etc. (Samples is below for reference)
3. High Marking Speed: the speed can reach 7000mm/s.
4. Long service time: for more than 100,000 hours.
5. Small size and easy moving: packing size (0.77*0.25*0.6m) Weight (35kg)
6. Easy operating: no need to adjust the laser path, you can mark the logos, numbers, pictures, etc, directly.
7. Permanent marking effect.
8. Free of the maintenance. No need to adjust the laser path.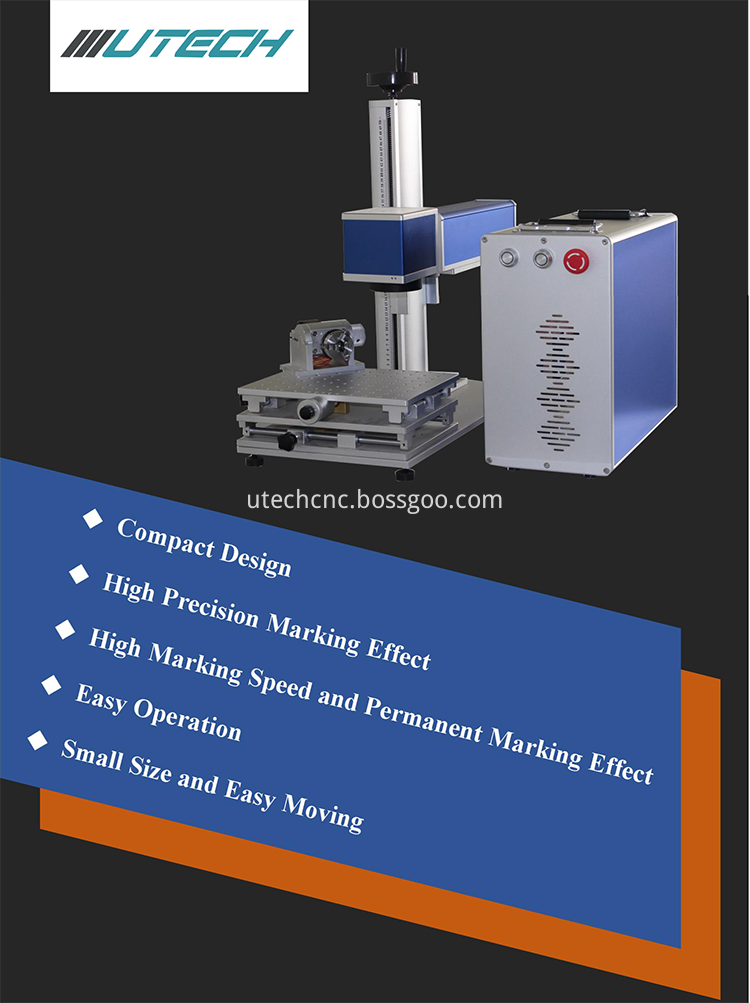 Applied Industry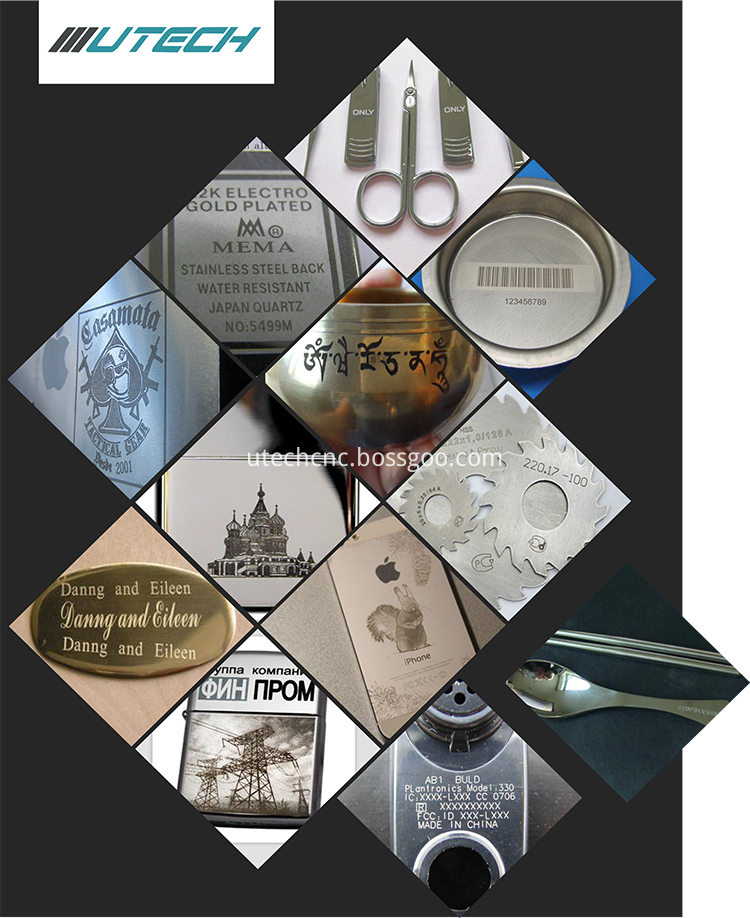 Application Materials:
Fiber laser marking machine is suitable for working with most metal marking applications
such as Gold, Silver, Stainless Steel, Brass, Aluminium, Steel, Iron Iitanium etc, and can also mark on many non-metal
materials,such as ABS, Nylon, PES, PVC, Makrolon.

Applicable industries
Phone keys, plastic translucent keys, electronic components, integrated circuits (IC), electrical appliances, buckles cookware,
stainless steel products and other industries.
Detailed Images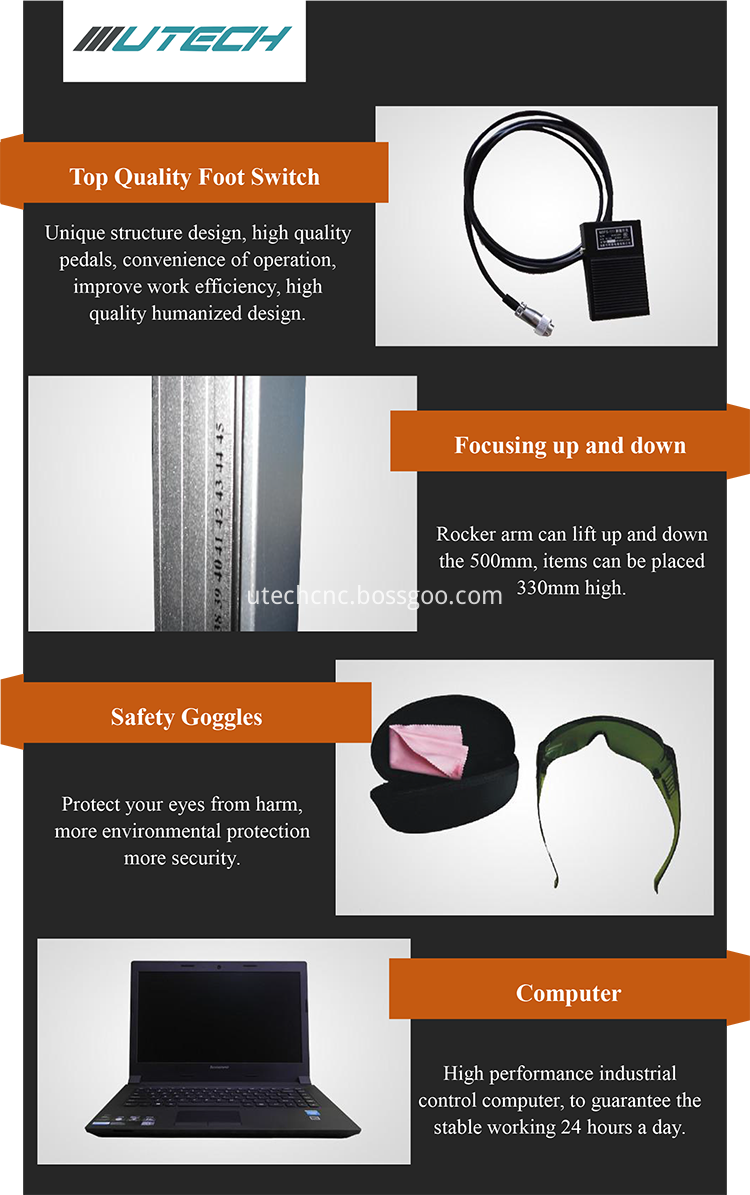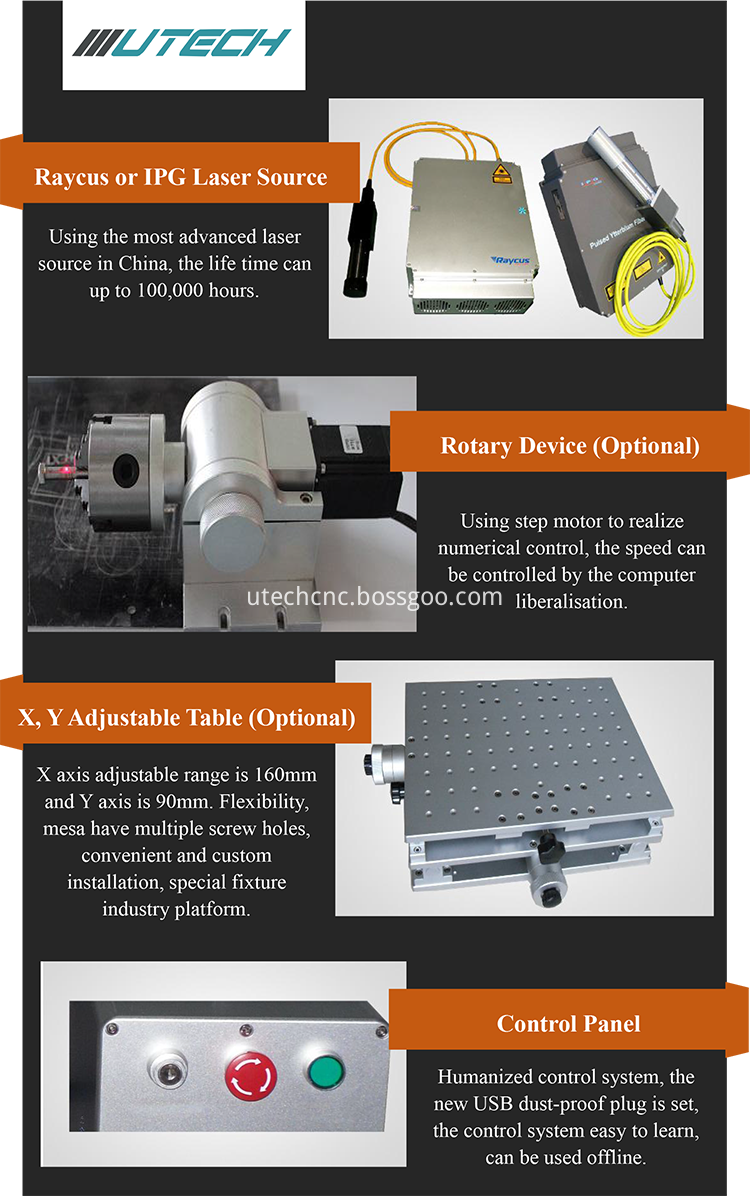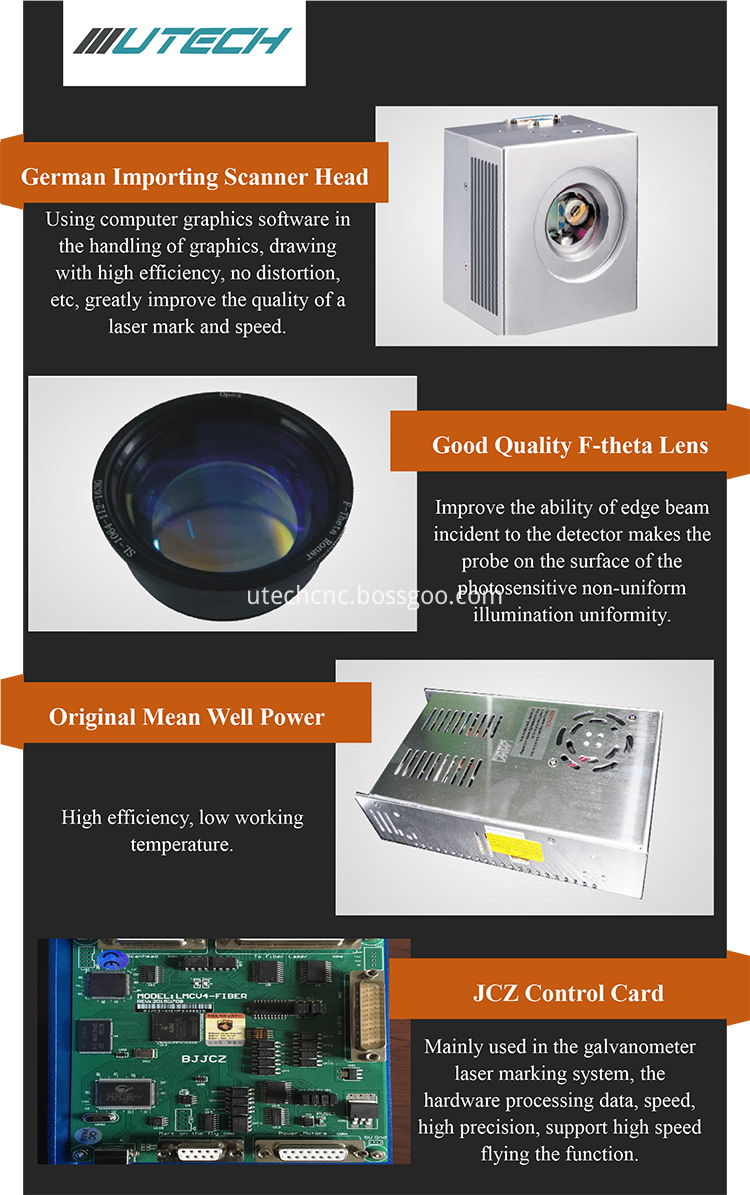 | | |
| --- | --- |
| | |
| | |
| | |
| | 75*75mm/110*110mm/150mm*150mm/175mm*175mm/200*200mm/300*300mm |
| | |
| | |
| | |
| | |
| | |
| Life-span of Fiber Laser Module | |
| | |
| | |
| | 10%~100% continuously to be adjusted |
| System Operation Environment | Windows XP/W7--32/64bits/W8--32/64bits |
| | |
| Temperature of Operation Environment | |
| | 220V / 50HZ / single phase or 110V / 60HZ / single phase |
| | |
| | |
| Machine Dimension/after package | |
| | |
| | Rotary Device, Moving Table, other customized Automation |
| | |
| Supports Graphical Format | PLT, BMP, JPG, PNG, TIP, PCX, TGA, ICO, DXF |
| | |
| | |
| | Plywood and standard wooden case. |
Company Information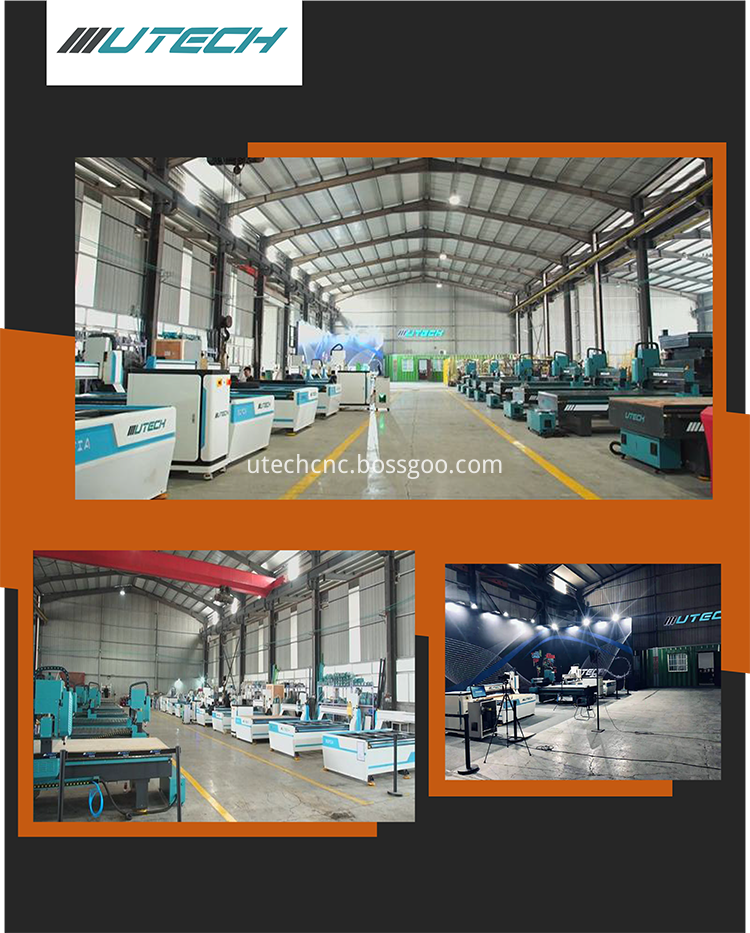 Shandong U-MAY CNC Technology CO., LTD.

Shandong U-MAY CNC Technology CO., LTD. Is located in Jinan, the spring city of China.The brand name on the market is UTECH, which is a new brand launched by the company since its construction in 2014.The main products of the company are CNC machine tools, laser engraving machines, plasma engraving machines,fiber laser marking machines, etc. Regarding products, we have been adhering to the business philosophy of "Smart Solution,Better Tomorrow", aiming to provide the CNC engraving machines with high quality and excellent guarantee for the whole world.

In recent years, our company has followed the development of The Times and entered the transition period. By 2019, our carving machines are more actively sold to North America, the Middle East, Western Europe, southeast Asia, Africa, South America and other regions, and have a stable dealer agency in some regions.
UTECH have Cnc Router Series, include Mini Desktop Cnc Router, Advertising Cnc Router, Woodworking Cnc Router, Professional Stone Cnc Router, Sign Cnc Router, ATC Cnc Router; Vision Localization/CCD Series include Cnc Router with CCD, Oscillating Knife Cutter with CCD, and Plasma Cutting Machine, Laser Engraving Machine, Fiber Laser Marking Machine.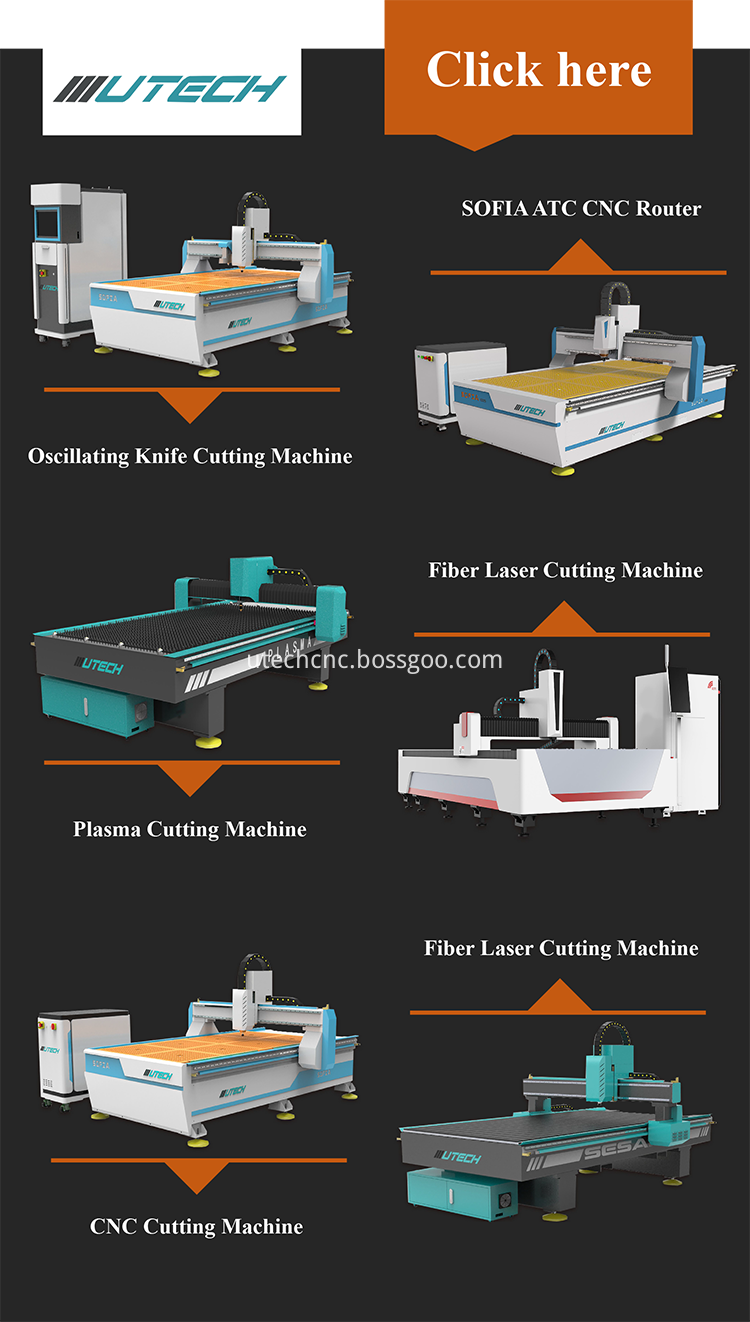 Certification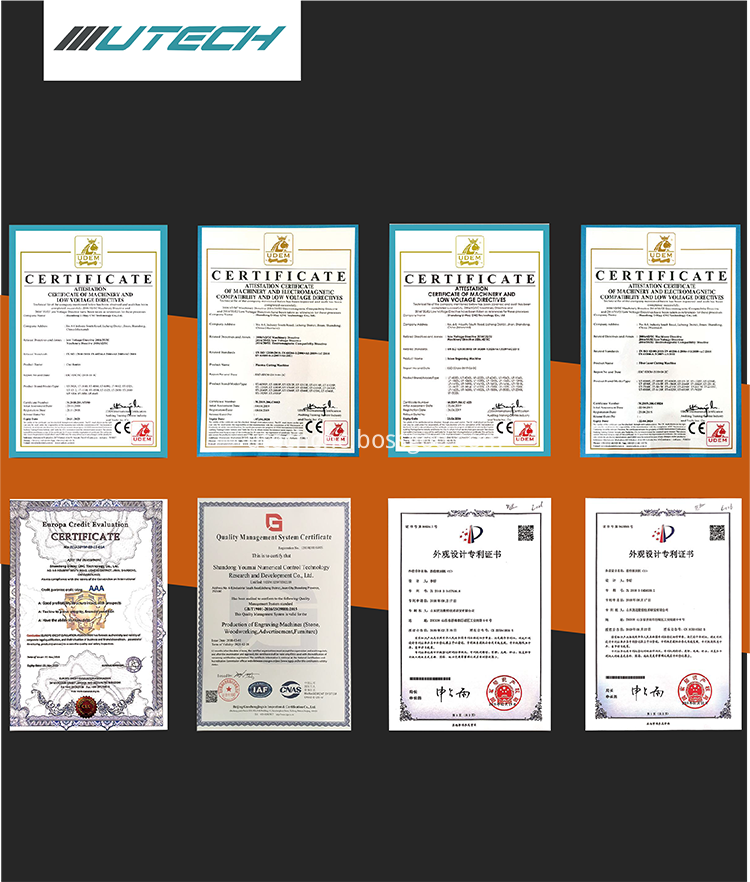 Exhibition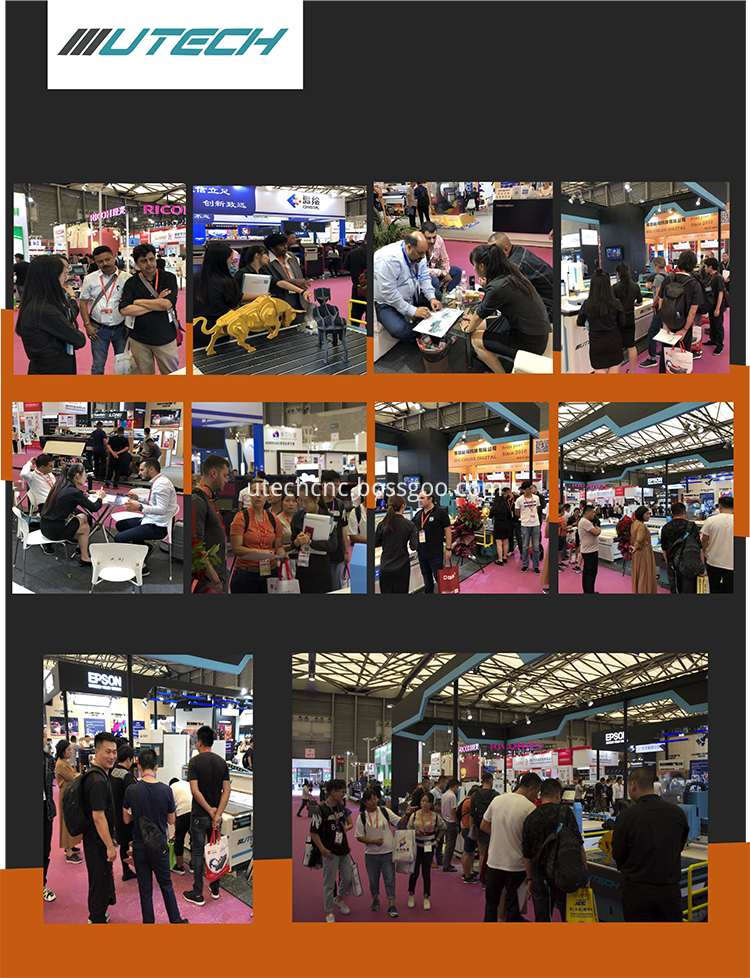 Customer Feedback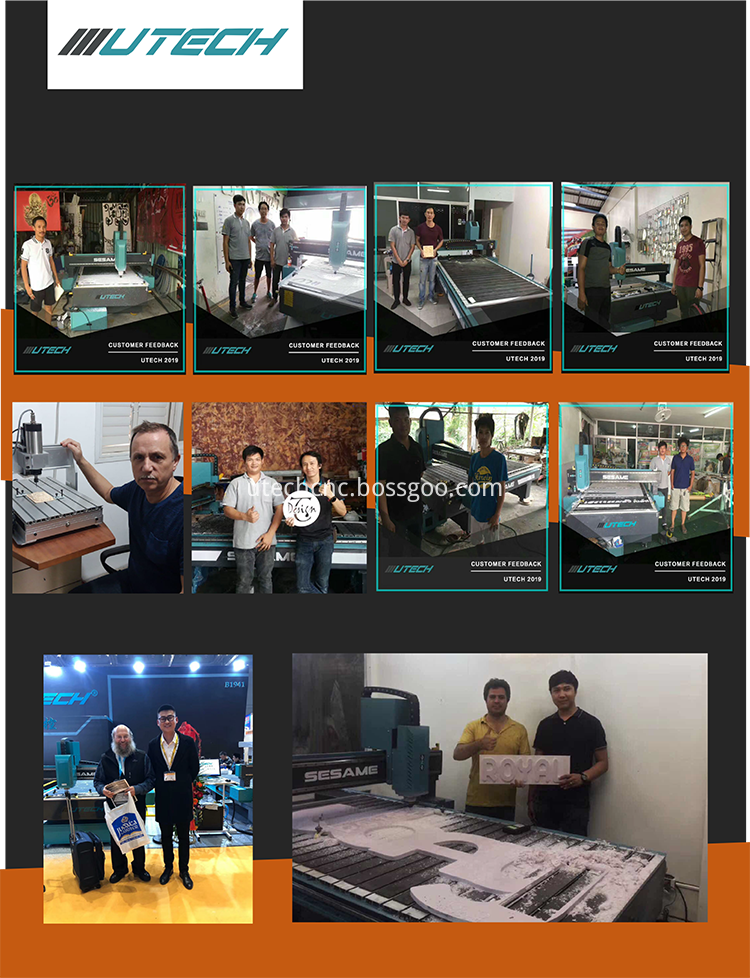 Package
1. Standard Wooden Case
Standard wooden cases with a sponge filled inside for packing protection.

2. Customized
Customized Packing as per Customer's requirement.

Our Service
Pre-sales Service
1. Inquiry and consulting support. About 15 days to produce the machine, meanwhile, we will report the production process in time.
2. Sample testing support.
3. View our factory.

After-sales Service
1. Training how to install the machine, how to use it by internet. 24 hours technical support by email, calling, if you have any problems, we will solve it within 12 hours.
2. Some parts (quality problems) can be free charge to replace it within warranty.

FAQ
1. How to guarantee the product to me? Is the purchase procedure complicated?
After you purchase Laser Marking Machine, we will keep in touch with you. The specific delivery process is in accordance with international trade practices, you can rest assured. If there is any doubt on some matters, the two sides can negotiate and deal with it.

2. What should I do if the product is found defective upon receipt of the goods?
Under normal circumstances, we will make strict inspection and test before the product leaves the factory. Video inspection is allowed if conditions permit. If you have time, you can come to our factory for on-site inspection. We will mail the missing parts and components in time.

3. How is the product packaged?
Product packaging is divided into three layers. The outer box is made of wood craft box.In the middle, the machine is covered with foam to protect it from vibration. The inner layer is waterproof and moisture-proof with thickened plastic bags.

4. Why can you trust us?
Our products are of high quality. We import important parts and components from Taiwan, Japan, etc., and have a series of relevant certificates as the basic guarantee. The whole process of assembly and processing has a full range of monitoring.In addition, the after-sales treatment is quite rigorous, and we will have technical staff to answer questions online in time.

5. What kind of factory is it?
Our company belongs to typical industrial and trading a shape, a statement that it is very important, because the factory can control the machine quality, and trade departments can correct fully introduce to the buyer, integrating two department, not only guarantee the product quality, and can do real-time docking factories and sales staff, saving problem to deal with the wait time for you.
Shandong U-May CNC Technology Co., Ltd.
Shandong U-MAY CNC-Technologie CO., LTD.Spezialisiert in der Forschung, Entwicklung, Produktion von CNC-Maschinen. Unsere Marke "WIN" "UTECH" hat einen beträchtlichen Ruf in den inländischen ähnlichen Produkten, die in den hölzernen Möbeln, in der Werbung, in den Handwerksgeschenken, in der Verpackung und im Drucken, im Logo und im etc. weit verbreitet ist. Unsere Produkte sind in viele Länder und in Regionen exportiert worden wie Europa, Russland, Asien, Afrika. Wir sind der Unternehmensführungsphilosophie "Integrität - basiert, ständig Innovation, effektive Kommunikation, Qualität Dienstleistungen" und das Ziel der "Technical Service Kunden" verpflichtet, sondern auch große Aufmerksamkeit auf Produktdesign, Herstellung, Installation, Anpassung. Wir werden immer noch unser Bestes versuchen, um aus einer Hand professionellen Service zu halten.
Name der Firma: Shandong U-May CNC Technology Co., Ltd.
Vertreter: Xin Li
Produkt / Dienstleistung: Cnc-Router , Lasergravur Schneidemaschine , Oszillierende Messerschneidemaschine , Faserlaser-Schneidemaschine , Plasmaschneidmaschine , Faserlaserbeschriftungsanlage
Kapital: 叁佰贰拾万元整
Jahr Errichtet: 2014
Absatzmenge des Jahres (in Mio. US $): US$1 Million - US$2.5 Million
Exportanteil: 71% - 80%
Jährliche Kaufvolumen (Millionen US $): US$2.5 Million - US$5 Million
Zahl der Fertigungslinien: 5
Zahl der Mannschaft der R&D: 21 -30 People
Zahl der Mannschaft der QC: 5 -10 People
OEM Dienstleistungen verbieten: yes
Größe der Fabrik (Sq.meters):: 1,000-3,000 square meters
Ort der Fabrik: No. 6-8, Industry South Road, Licheng District, Jinan, Shandong, China (Mainland)
Ansprechpartner: Ms. Sofia
Telefonnummer: 86-186-63716521